Pastor Rick's Preach Story
Some where called and some were sent. Some just packed up and went.Some were Mama called and Daddy sent. But there are those called of God. So it was with Rick Bowen.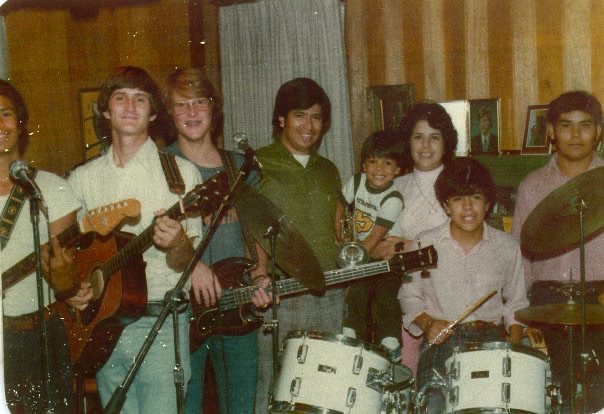 The story you are about to read is like others but unique. I know, a paradox. Yet this is the way much of supernatural ministry goes. Each day may be quite mundane, but often is sprinkled with manifestations of God's presence and even the miraculous that he weaves into our story, which is actually His. History. So this is the history of one anointed prophetic minister. Not everything will be told or it would be way to lengthy. Some things are left out to protect those still trying to get their footing and renew their relationship with God. Therefore the purpose of this informative saga is to inspire and equip. If you understand that God uses others in spite of their inhibitions and restraints, then perhaps you will understand that God is already using you and you have a story to tell to. Maybe you won't share yours until some time later. But more than likely it will encourage and inspire others much like this one. Enjoy and be blessed!
The Beginning
46 years ago, I began this preach journey. Singing with a Gospel Group. Getting credentialed in Dallas at the International Churches of Deliverance with W. V. Grant Sr. of the Voice of Healing! I then began working for a missionary evangelist to Mexico in Bryan, Texas, Harold Lange. He and
Gloria Ellis-Lange Price
owned a music store. I interpreted letters from Mexicans to him and from him to them! I would preach mostly on weekends for app. 4 years in the Texas area and perhaps Louisiana and Arkansas.
Alfonso Alvarado asked me to be the expositor for our Gospel Group. App. Early 1976, the Holy Spirit fell on me with an anointing to exhort! As this occurred the call to preach came heavy. I accepted it and began to move into the gifts, word of knowledge, wisdom, discerning spirits, tongues, interpretation and PROPHECY! I preached my first sermon in Austin at Santos Pentecostes! Don't worry the sermon was in English and only lasted about 7-8 minutes
I got saved and filled with the Holy Ghost under the anointed prolific preaching and pastoring of Brother D. R. Young at the College Heights A/G. A lot of word was instilled in me from 1965-app 1974-5, Then for approximate 2 years I taught the young peoples Sunday School at El Templo Buenas Nuevas A/G pastored by Hermano Rosas (I was also singing in the group when I started preaching), In 1977 I became an Honorary member of The Revival Center Church of God in Christ pastored by Brother Webb. In 1978, I helped start the Endtime Evangelistic Pentecostal Church which is pastored by Brother Melvin C. Williams. As I continued my revivals locally through the week and also on weekends, I worked at Lange Music Company and McClane Southwest! During these years I received prophetic words and anointings from prophetic ministers and evangelists, Isaiah Young, Bud Chambers, Bishop S.D. James, two prophets names Hester, and David Terrell and others. Much of these prophecies confirmed and gave momentum to my early ministry!
With anointing oil 'dripping' from my head, I left my job, home, and surroundings in 1980 for the next 8 years (new beginning), I traveled the 'sawdust' trail preaching in Alabama, North Carolina, Florida, Georgia, Mississippi, Louisiana, several islands, and all states already named! I preached everywhere they'd have me. I prayed over many as they came through prayer lines, baptized and rebaptized, newly saved, and the rededicated! The gifts were in operation. I made many friends and became adopted parts of several families for different seasons of kingdom assignments. In 1984 the ministry took a turn!
New Year's Eve, December 31, 1983, a service that lasted till 2 a.m, Jacksonville, Florida pivotal time. Pastor Wil Cohron hosted me for revival. I attended camp meeting met strategically effective and located pastors,
W Wayne Pugh
,
Paul Haygood
, and several others! I preached revivals for these great men and became lifelong friends. Pastor Cohron arranged for me to take a turn north, so I journeyed to West Virginia, to preach for Joe Nelson. From there I crossed the Ohio River and began preaching revivals in Ohio! Each place I would go would lead to the next place, it seemed those that were blessed, were also impressed and wanted to share my prophetic and catalyzing ministry with their friends in the next city or state and sometimes the same town!
Those 8 years in the 80s were lean times, but yet rich. Like Bud Chambers wrote and the Goodmans sang, "I'm a Poor Rich Man!" I stayed in people's homes, Sunday School Room with bed, cheap horseshoe classic motels, etc. I stayed in travel trailers. I finally bought a used travel trailer that was my home for a while. Later, I bought an old construction workers motor home called, get this, "Escapade!" It had a tool box on top that looked like a coffin. There was preacher poundings (some of y'all know) and weeks where peanut butter crackers and bologna was exquisite cuisine! Yet God provided, sustained and even prospered! And don't forget his protection. Even delivered from an apartment fire that took out two of my best suits (rust and lavender)
Got locked out of my 71 Cadillac while running in with a flat in the hood of Chicago
But I'm still here
God ministered in every case, 'cause people were hungry! They didn't care what color I was and I didn't care what color they were! We had CHURCH y'all!!! The Prophetic was intense (or in tents
, you might say LOL)
The reason I bought the motor home was for somewhere for me and my new bride to live in while we were on the road. We affectionately named the motor home, BERTHA! (No offense if that's your name). She made it through the saga of this motorhome, even though we had to drive it for 100s of miles with no brakes and had to suffer through sparks flying off the steering column
LOL. Ruth was the greatest change and person that could have happened to me. I mean who would leave all to follow Jesus and take on a Kingdom assignment that would take us where I hoped angels did not fear to tread? She has stood beside me in thick and then, for better or for worse, and certainly through rich or poor! I would not have been able to do what was done since 1987, if it were not for her hard work and counsel. You'll never know what a difference it's made to have this green eyed blonde headed girl co-laboring with me.
Pastors Schneider and Colbern in Caldwell, Ohio said, if they weren't married, they would marry her. They were and I wasn't, so I DID/I mean I DO!
But this led from Parkersburg, West Virginia, to Coshocton, Ohio, to Toledo, to Loraine, where we dated for a couple years by plane! Who does that?! So we married and hit the trail in that aforementioned BERTHA! Now she can vouch for more of my "you can't make this up stories!" One place the Pastor took us out to eat but we received NO honorarium
Another lasted two weeks or so. Food every night afterwards. No wonder I ballooned out to 230 (180 now)! We drove the motorhome through many states and saw the move of the Spirit in congregations in the city and the COUNTRY. Then the motorhome began to come apart like Johnny Cash's car in reverse, "one piece at a time" LOL. It made it all the way to Muncie before we moved it out of our lives because we had a new assignment.
A pastor named Kirk in Elyria, Ohio had a brother in Toledo! Holy Toledo!! I was able to have three revivals in Toledo. At one of these meetings, I ministered a prophetic Word of Knowledge and Wisdom to a young couple. This couple arranged for me to come to Kokomo, Indiana in 1986. I hadn't been since 1976 (Austin, Indiana, with Brother Richie). I was invited to second church in Kokomo, pastored by James E. Ball! This pastor took me to Indianapolis to preach in his network's fellowship meeting! A church from Muncie was there also. Unbeknownst to me I was about to get an invitation to Muncie for a series of three revivals over the next 2 years. It was during this time that I was joined by the gorgeous blonde in the aforementioned posts! I was told by Brother Ball that Brother Slattery from Muncie was looking for a pastor to take his place. He said don't be surprised if he asks if you have interest. By the way Brother Ball said, 'are you interested in pastoring?!' I heard that question again from this great pastor from Muncie, Brother Harry Slattery! It was like a Holy Ghost echo!
As expected, one night after church, Brother Slattery asked me about my interest in pastoring. Basically, though flattered, I told him, I would pray about it. This was in December of 1986. As 87 turned to 88, I and then Ruth and I had 3 meetings in Muncie, plus we watched the church for 3 weeks. The people of Muncie and Gethsemane received us well. In the fall of 88, after our consent, Brother Slattery nominated us as his choice to become pastors! It was confirmed by the majority of the membership. We move out of the motorhome and into a house. My head was in the clouds and my eyes on the stars! Most of the time, thankfully my feet stayed on the ground. The church slowly began to grow. The gifts were in operation! Baptisms of the converted started accelerating!!! Before long I invited my friend, whom I had preached for, in for revival!
W Wayne Pugh
came for a Memorable, Miracle Revival! The crowd swelled and filled the house. The prayer line was long and the anointing was heavy. Of course trials were right around the corner! But God!!
You May have noticed that the story so far is exciting and rosy! But in this life there are also thorns! Adversity and tribulation. I haven't and won't tell most and certainly not too many details! The past is under the BLOOD!! But you need to understand that ministry comes with a price! It is valuable! It is to be cherished! 1990 brought the shocking passing of my Dad! 6 months later during the revival mentioned in part 10, a core member of the church dropped dead right in front of me and others! Yes this is the short version. Pain, anxiety and trauma gripped me in 1991 for all of a year. The enemy tried to take me out. I had symptoms that were extremely disturbing. Cramps, spasms, acid reflux, esophagitis, heart palpitations, pre-mature ventricular contractions, 20 per minute at times, etc. I walked through and out of the valley of the shadow! For you see over 30 years of prophetic pastoral ministry lay in front of me. God wouldn't let the devil win! And neither would I! I was going to sow a new theme in the lives of the tried and true, the testimony of victory! And like the preacher for our first revival said, "Don't wait for the walls to fall, SHOUT NOW!!"
The prophetic anointed desire and word of knowledge came during the adversity. I wanted a boy, 9 months, he arrived. It was a miracle prayer! 22 months later his sister came along. This illustrated the irony of TRIUMPH in the midst of trials! Then there was the 22 weeks of baptisms every week! We were underway. Excitement building. I arose from the laser focus on my mortality, thinking I would die, to the right focus on God's plan for the assembly. The buzz ensued. People were sharing and talking. We had several revivalists in to keep stirring the fire. Other pastors said this is revival. We began to make friends with missionaries and support them around the world. The honeymoon lasted for some time. We met people around the church community of Muncie, Delaware county and beyond! Yes the right decision has been made! We had our natural children and spiritual children were being born! God is good!
One of the things that intrigued the folks upon becoming pastor and before was the gifts of the Spirit. I have already alluded to this. This was somewhat new to many. Some were a little leary at first while others were fascinated. It started with me in 1973-74 with my first message in tongues in Jacksonville, Texas. That was the door to more. Later at Souls Harbor in Dallas, I observed other gifts. So in 1976, on the way to San Antonio, I had a vision. When I arrived in SA the vision came to pass. I ministered to the lady and her son deliverance. One year later at the same church, the lady said, he was still free! So from there words of knowledge and wisdom, along with prophecy became pretty common. It was that way when we arrived in Muncie. So ministry flowed from 88 into the 90's with anticipation, excitement, growth, and hope! Perhaps someone will testify in this thread. Nevertheless, more to be said as the 90s hit their stride!!
As we rolled through the 90s with momentum, the quest for different stratagems and methods got our attention. But mostly revivals, making new friends. A number of evangelists came and did their part. We settled into a network and befriended other groups. The Lord gave me an overwhelmingly conviction, "you are not by yourself, this is my kingdom!" Then came camp-meetings. Near and far. Family and national. Lake Placid and Columbus! Suber and Parsley! We had high hopes lifted higher as we saw a great hunger for growth and vision! Could we build a new church? Could we buy land? Could we expand? Ideally yeah! Realistically it took cooperation and resources! The answer was a resounding yes!
One member suggested we go on the radio. So we went on WERK - 99AM, a local Christian Station (Now Classic Rock, FM). I had to make a cassette tape with a sermon or lesson on it each week. I also needed a lead in song and one to close. We themed the radio program similarly to what the church we built would be named, The Victory Today Radio Broadcast! It was a challenge to get the newly made cassette out to the station each week. It was located in what looked like a house on 3 at that time. Once I sung all 4 parts to a song on a sound track!!! I had to dub each part in one at a time! I sounded pretty good as a quartet LOL! The broadcast hit it's stride and ran it course as the station was sold and repurposed! Little did I know in the early 90s, that one day there would be digital opportunities to get the word out and that I would find several ways to send out the light of the GOSPEL!

Excitement! God's work is! But the human mind and emotions can get in a rut if not challenged! Mid 90s we found one of the several hubs of revival in Columbus, Ohio! We also aspired to become a hub of sorts in our own right. Could we spawn, stimulate, and catalyze revival? Well we were on a quest! Let's relocate and build! Where? We looked at several churches and we looked at several land locations. When Robert Huddleston showed me his mini-farms properties on 26th Street, the witness came as the board and church body agreed on 14 acres in Center Township! We bought it fully paid for in less than 6 months! Even though then it was a barren, plot of dirt and weeds, it was destined to become a blessed area where angels roam. One day it would become as one Bishop described it, a field of dreams, where a fortress of faith would be built! A bastion for the BLOOD!

Each morning (as 96 ended and 97 began), before going to the office or about the day's agenda, I would drive to the blessed land, sit in the car, watch and pray, as the Temple of Victory was built. They built through the winter, using visqueen, salamanders, and other helps to facilitate as an efficient use of the otherwise inopportune time as possible. As spring arrived, one morning I noticed an extraordinary phenomenon!! Sitting on the unfinished drive through was a WHITE DOVE!! It had never been there before and I had never seen one in 'person'! Every day for two weeks, the same thing. Then it disappeared!! I pointed it out to the contractors who also saw it! They were astounded as well! What did the DOVE foretell?! No matter what, it was a sign of God's approval!!

I find (as I often do) the timing of this day and the parallel course of my 'preach posts' to be riveting! For it was 21 years ago today that Penny Robertson, Kim Brown, Theresa Harville, Joan Allen, Bruce Boling, Larry Terry, and I were headed to Baton Rouge to Bethany World Prayer Center for Larry Stockstill's Cell Conference! We stopped in Terre Haute to use restroom when we heard the news of the first plane! The rest of the trip was sobering! But we determined to go to the conference anyway! Fellowship good! Learning wonderful! Worship heavenly! What we didn't know and still don't fully grasp is all that would happen going forward, even what was signaled in that infamous attack! But 21 years later we have grown into giant slayers! We are a people that will persevere and rise up out of the rubble! For 21 years the debri of the towers has figuratively been strewn across the nation. God has allowed us to look beyond the surface and see deep dark and dismal items! But this you must know >> Proverbs 24:16 (NKJV): For a righteous man may fall seven times and rise again, But the wicked shall fall by calamity.

Around 1998-1999, as the luster of personality wore a little thin and the newness was gone, and even as things across the church landscape were changing, we also looked for biblical strategies that would hold the expected harvest. This quest would last for years. Initially, I read three books that my friend, John Adams shared with me. At that time, I felt the witness of the Holy Spirit, that so familiar resonance of HIS presence!
One of the books
was, WHERE DO WE GO FROM HERE?, written by Ralph Neighbor Jr. I have lost count of the coincidences (providential confirmations) that have happened in my ministry history!! Soon I would attend a one day conference in Tulsa at the church then pastored by Billy Joe Daugherty! When I got on the shuttle from the airport to go to the nine hour conference, I sat down in the empty seat by a friendly older man! He stuck out his hand introducing himself! "Ralph Neighbor", he said! Once again I KNEW, I was in the right place at the right time doing the right thing!


I would be remiss to not share my technology journey with you, well at least the part about 'my phone'! Phone, you know that minicomputer we carry that we sometimes talk on! In the latter half of the 90s people started bringing me their old 'klunker' phones! I tried to be gracious and take them, not even sure if they ever worked. Plus, I didn't want a cell phone! Finally after something close to Palm Pilot, I broke down and got a Motorola Flip Phone, thinking I had arrived. IPhone came out. I started with a 3 and moved on from there! I have tried to keep up and use it for connections and ministry since. I became aware of the many pitfalls of technology as well as the benefits! But it is hard to imagine not being able to text someone, call someone or email someone no matter where they may be. I like to think that our prayers preceded all of this. They are even faster. Send up a prayer! Release your faith! God dispatches angels to carry the answer to the target of blessing and hope!

Our church is not large, yet it's reach is practically unspeakable. It's connections have included a Hebrews 11 Hall of The Faith. If I started naming names, you would think I was name dropping…and I would be; for many high caliber and profile people have touched and been touched by our assembly. Not the least of these was Bishop Kenneth Phillips. Before I met Brother Phillips, I remember watching The World of Pentecost on TV. Little did I know then, that one day I would ask this forward thinking and strong foundational apostolic man to come and dedicate our church. I suppose it picked up pace when Ruth and I were able to attend The Harmony for the New Millennium Conference in Austin, Texas at Promiseland Church! Brother Phillips and Brother Jack DeHart from Christ Church in Irving, Texas collaborated for two of these conferences in 1999 and 2000. I was also able to attend the one in Irving! Bishop Phillips graciously accepted. Invitations were sent to the many friends we had made on the "Evangelistic Trail!" So many honored us by attending the dedication of Victory Temple. Dave and Bonita Petersen lead our worship ensemble. We had a power packed weekend as we headed for the new millennium and it's powerful possibilities!!


Apocalypse now! Well that has been the pending prediction for most of my ministry by some, even secular prognosticators! And it is true that I have done extensive study on eschatology and the end of the age! So it is woven into my message for hope and motivation! It stands to reason that the herald of Y2K had everyone's attention! When the clock struck 12:01 AM, 2000, the expectation was that all computers would reset and lose all their data, throwing everything off course, planes falling and other catastrophes unfolding! But…it didn't happen! The LORD never said that! He had yet some decades of work to do with the human creation that would culminate in the greatest revival of all time (Revelation 7)! So we began the 21st century in our new building, with new strategies, and the anticipation that the best was yet to come!
Anyone living for God knows what I am about to say is true. It is particularly true for those that are in the five-fold ministry. There ARE trials. There ARE pitfalls. There ARE tribulations. Yes there are even mistakes in judgment and errors in decisions that we all make. Really! That is part of the learning process! That is part of maturing. No! It is not an excuse to continue to do the same thing expecting different results. That is the definition of insanity. So before I go forward sharing the next 22 years (I have already shared the first 25, WOW), I confess there has been pain and there have been trials that we have dealt with. SO…we have something in common. There is no need to describe these things to you because this exercise is for the purpose of edification and information as well as inspiration and revelation. Besides, it is so far in the rear view mirror that it has disappeared beyond the horizon of the past! That is what the blood of Jesus does for you and me. As long as we are on this earth, we will deal with the adversities and as one preacher says, "vicissitudes of life." But those of us that have had his hand on us and his SPIRIT within us keep getting up with his healing and forgiveness and moving forward. Yeah I could easily say that compared to this one or that one, we have not had any real problems, but that would be misleading too. Besides the Bible says that kind of comparison is unwise (2 Corinthians 10:12).
We needed help. We always have. We always do! One couple (Robert and Dana Williams) came from West Virginia and served with us in the 90s for a while. Robert said the LORD told me, Brother Bowen needs help. After about a year passed, they were with us in ministry for some time. Then in 2001 just before the World Trade Center hit the ground, I found a young ministry couple on, get this, America on Line! AOL!! Remember that! However this next couple was from Halifax, Nova Scotia, Canada. We talked a number of times late up into the night! I flew to NS in order to personally interview this couple (Trevor and Jacqui Hill). This great couple came to Muncie and worked with us for about 3 years. During their tenure, we were able to try a number of unprecedented things. Each of these folks have more robust stories we could share with you. Since that time, we have continued to be blessed with high caliber, skilled, and seasoned people come for seasons of ministry. We are thankful for each and every one! The pivotal times of ministry are vehicles that transport you to the next time on God's calendar. Dana is with the LORD now, Robert is back home. Trevor and Jacqui are in active ministry in Halifax. They have two beautiful grown daughters! Yes we are all getting older. But I digress.